The TYP-01 isn't a replica of machine parts but a vivid interpretation by automotive designer Mohammad Morassafar. Morassafar, or Mo, reimagines the equal-length racing exhaust header of the flat-six engine, the ducktail spoiler of the Carrera RS 2.7, and the spartan interiors of racing cars with a new vibrancy. It took more than a year to design and develop.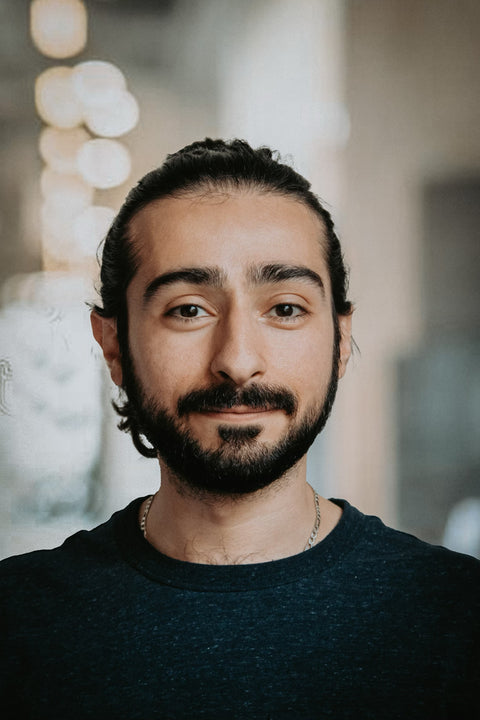 Mohammad Morassafar
Head of Design, R Werk
Mo is a life-long car enthusiast. He graduated from Hochschule Pforzheim, one of the top three automotive design schools in the world, where he studied under Thomas Stopka and Lutz Fügener. In his career, he's worked alongside industry giants such as Nader Faghihzadeh and for companies such as Volkswagen and Mercedes-Benz. Much of his work with car makers remains under NDA and has yet to be announced publicly. He lives in Pforzheim, Germany.
"BEWEGUNG HAT ETWAS MAGISCHES INNE. VON ANFANG AN WOLLTE ICH ETWAS ERSCHAFFEN, DAS DURCH BEWEGUNG ZUM LEBEN ERWECKT WIRD. DAZU HABE ICH KONTRÄRE FORMENSPRACHEN GEGENÜBERGESTELLT UND DIE DARAUS ENTSTEHENDE SPANNUNG IN EINE HARMONISCHE BEWEGUNG ÜBERSETZT. FREI VON LOGISTISCHEN ODER FERTIGUNGSBEDINGTEN EINSCHRÄNKUNGEN, KONNTE ICH SO MEINER VISION FOLGEN UND EIN FORMVOLLENDETES DESIGN KREIEREN."
"THERE IS A MAGIC AND MYSTERY IN MOVEMENT. FROM THE BEGINNING, MY GOAL HAS BEEN TO CREATE SOMETHING THAT LOOKS ALIVE WITH MOTION. TO DO THAT, I PITTED CONTRARY DESIGN LANGUAGES AGAINST EACH OTHER, CREATING MOVEMENT AND HARMONY FROM TENSION. FREE OF LOGISTICAL AND MANUFACTURING CONSTRAINTS, I WAS ABLE TO UNLEASH MY IMAGINATION AND ACHIEVE A PURITY OF DESIGN."
CREATING HARMONY FROM CONTRAST
Mo balances opposing design languages into the TYP-01 sculpture to create tension that can be seen as well as felt.
"ALS KÜNSTLERIN GEHE ICH ÜBER DAS ERZEUGEN VON EINFACHER SPANNUNG HINAUS, UM HARMONIE, DYNAMIK UND LETZTLICH EMOTION ZU ERSCHAFFEN."
"AS AN ARTIST, I WANT TO MOVE BEYOND SIMPLE TENSION TO CREATE HARMONY, MOVEMENT, AND ULTIMATELY EMOTION."
Singular vs Finessed
Weightless vs Rooted
Warm vs. Cool
Abstract vs. Literal
Machined vs. Hand-crafted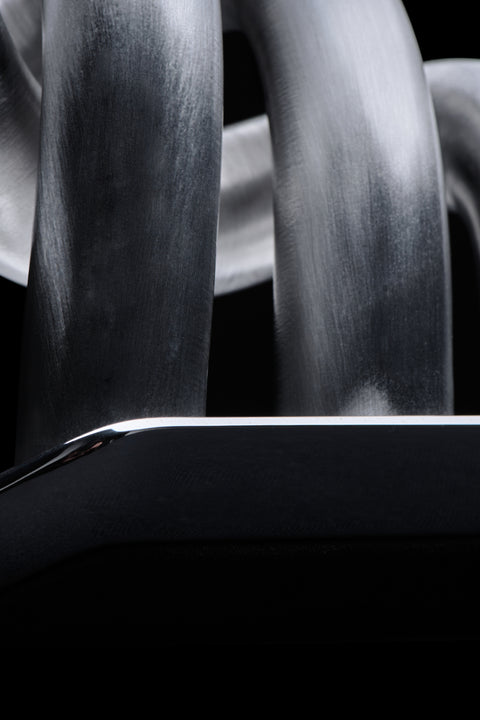 The hidden screws and mirror finish give the appearance of a singular monolithic sculpture, while the hand-brushed support column reveals the details of the artisan's handiwork that make each piece a one-of-a-kind work of art.
The mirror finish, floating base, and dancing pipes give the impression of weightlessness, while the sheer weight and chamfered edge of the chassis gives the impression of a hunkered-down racing car.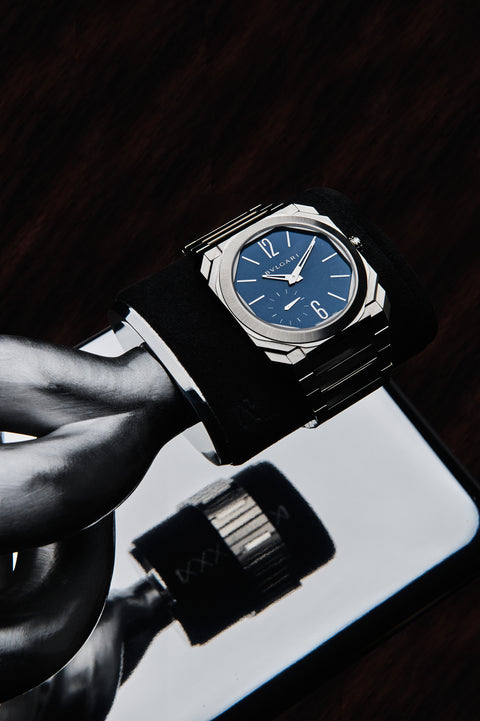 The watchrest is as warm and pliant as the interior of a meticulously calibrated racing car, while the chassis is as reflective and cool as a puddle of silver. 
The chassis is an abstraction of the automotive language with tightly controlled surfacing and carefully measured curves and angles, while the support structure is a literal interpretation of the exhaust header of a Porsche 911 racing flat-six engine.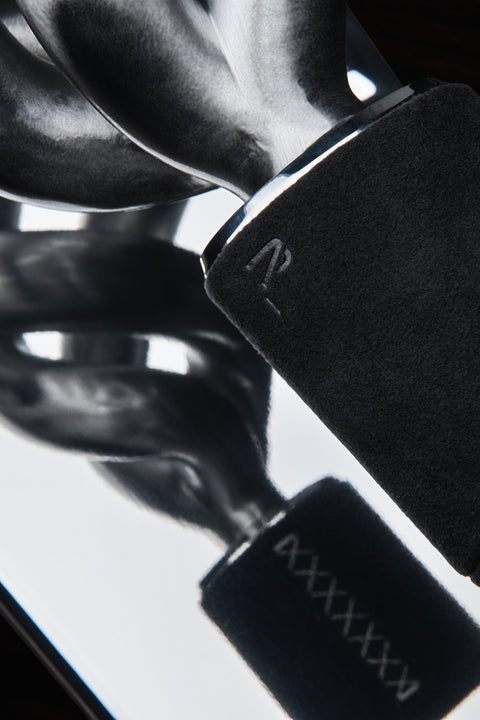 Both the chassis and supporting structure are produced using cutting-edge technology and advanced materials, while the watchrest is carefully upholstered by the hand of master upholsterer Devin Scott-Scicluna.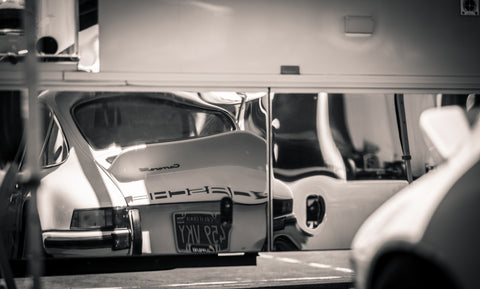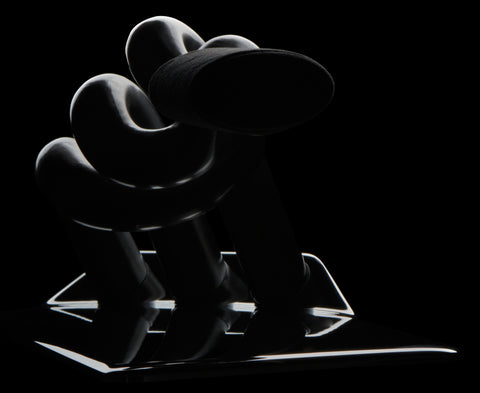 PURITY OF DESIGN
Unlike designing an automobile, which is hampered by demanding timelines, nebulous objectives, and tight budgets, Mo is given as many resources as he needs to achieve his vision. The TYP-01 is what results when your only objective is purity of design.
"WENN DAS PRODUKT NICHT DIE BALANCE ZWISCHEN MEHREREN KOMPROMISSEN HALTEN MUSS, KANN ICH MICH ALS DESIGNER UMSO BESSER AUF MEINE VISION KONZENTRIEREN."
"WHEN THE PRODUCT ISN'T CAUGHT IN A BALANCE OF COMPROMISES, THE BETTER AND MORE CREATIVELY AN ARTIST CAN FOCUS ON HIS VISION."
Chassis
Chamfered Edge
Base
Watchrest
Pipes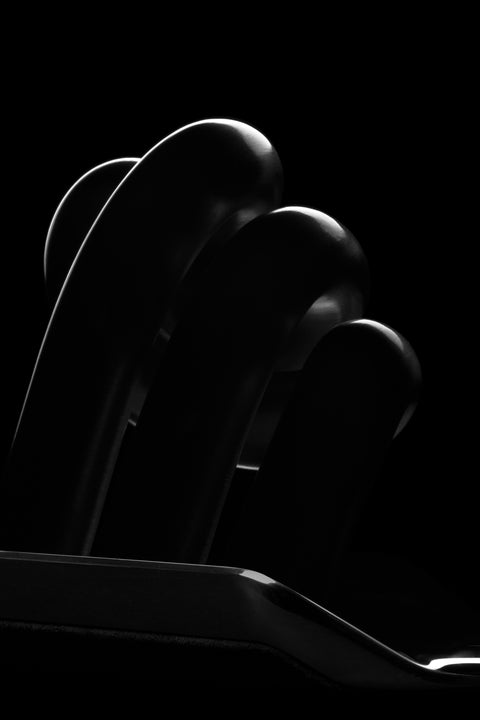 The chassis doesn't lie totally flat but kicks up in an homage to the ducktail spoiler of the 1973 Porsche 911 Carrera RS 2.7.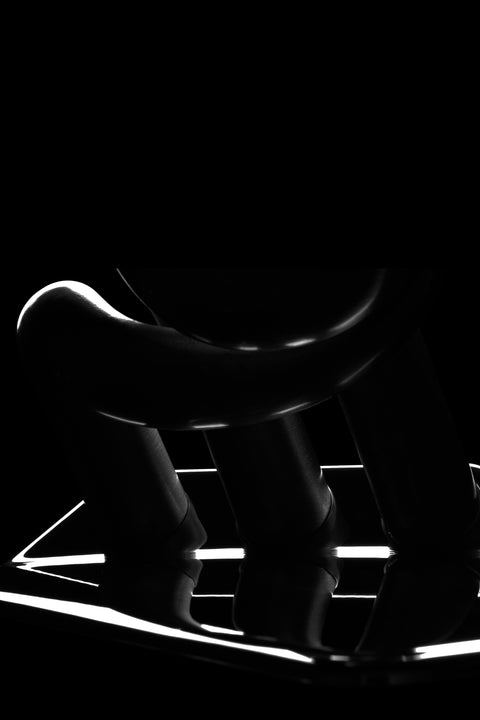 The chassis tapers in a deliberate downward slope that gives the overall structure the stance of a hunkered-down racing car.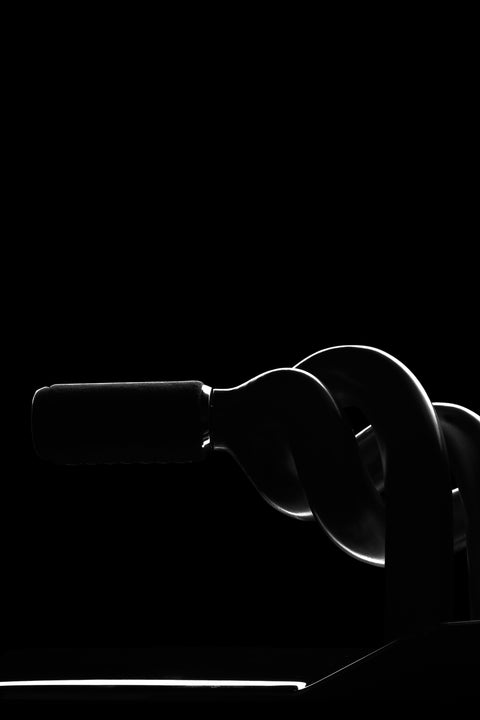 The base floats gently above the surface, giving the impression of weightlessness.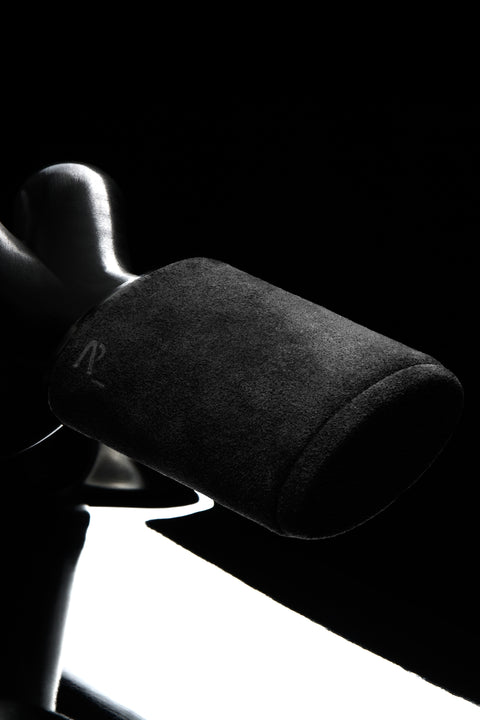 The watchrest is designed as a generous ellipse with a supple surface that holds your timepiece with the utmost care.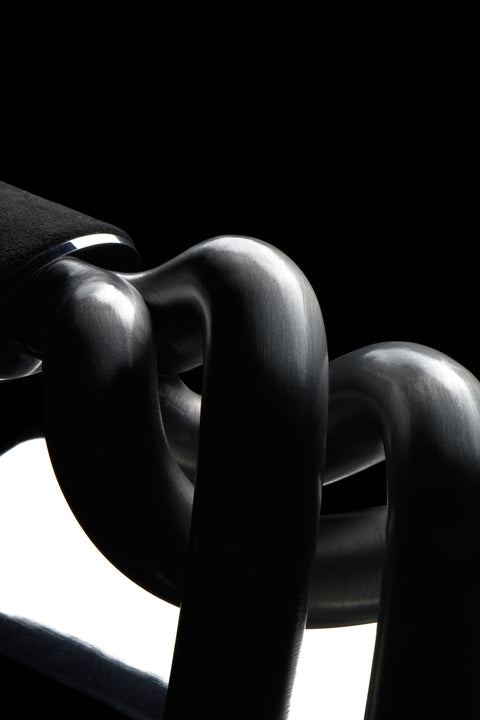 The support column doesn't simply cantilever over the chassis but gracefully dances and elegantly merges at the watchrest.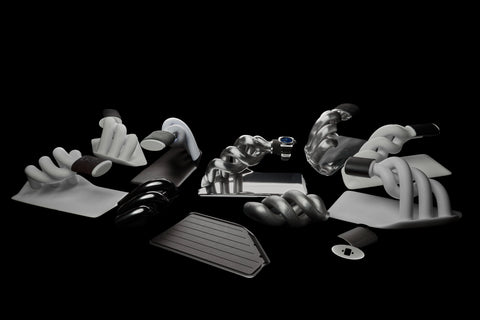 TYP-01 | Ergonomics
The TYP-01 isn't only designed to look beautiful but to perform functionally as furniture. After more than a year of researching, prototyping, and usability testing, every dimension of it is instinctively simple to use.
LEARN MORE